Dry itchy skin during the winter can be annoying and irritating. Plus, if you have eczema, psoriasis, acne, or any other kind of skin challenge, you are bound to see your skin flare up even more. What's worse is that having dry and dehydrated skin makes your skin age faster and develop wrinkles sooner!
Lots of products say that they are moisturizing and hydrating, but they don't seem to make that much of a difference. Your skin still looks lackluster. Or maybe your skin is still irritated, red, chapped, and blotchy. Not all products labeled moisturizing actually have ingredients in them that work to repair your skin.
Here's 5 ingredients that actually work to hydrate your skin, make skin challenges disappear, and actually reverse the aging process:
Hyaluronic Acid

Aloe Vera

Royal Jelly

Rosehip Oil

Shea Butter
Hyaluronic acid is used in so many anti-aging products. Sometimes it is even called the "holy grail" for its anti-aging properties. The reason why is because this acid takes moisture from the air to plump your skin and decrease fine lines and wrinkles. 
Our bodies naturally make hyaluronic acid, but as we age, our production drastically decreases. Some people who apply hyaluronic acid on a daily basis often call it "Spanx for your face" because it literally lightens, brightens and tightens! You'll visibly notice that it pulls your skin tighter and makes it more smooth and soft while relieving any dry itchy patches.
Pure Haven's hyaluronic acid also has aloe vera juice in the ingredients. Both work together to really hydrate the skin and reverse the aging clock!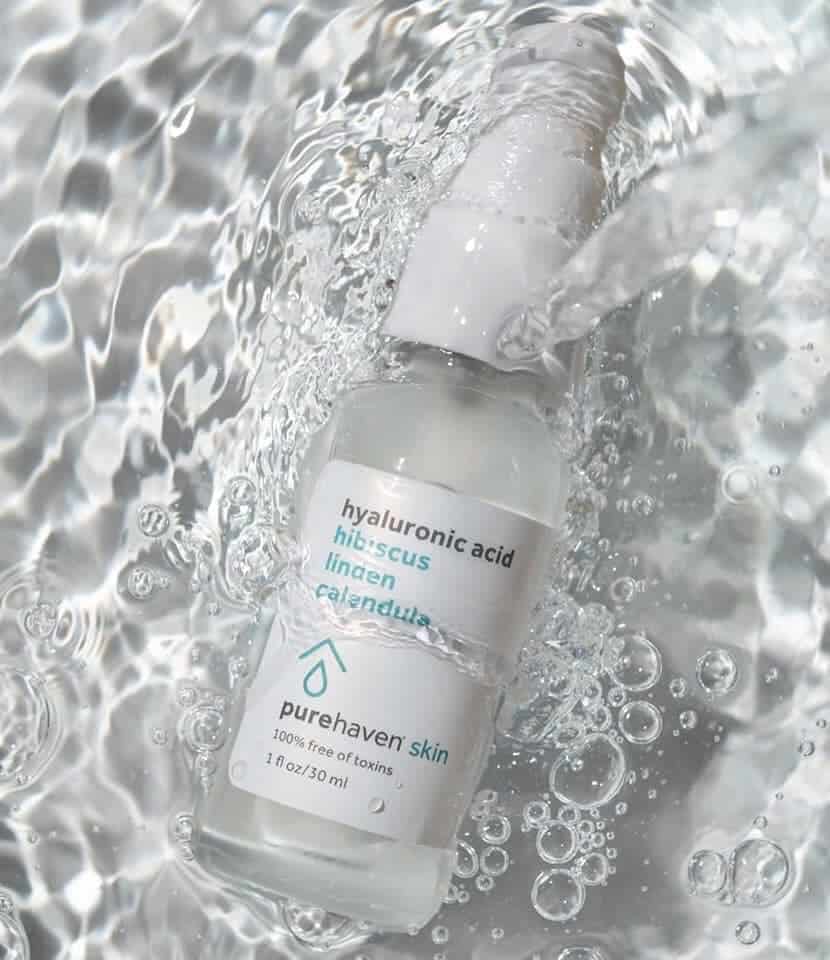 Want our best tip for using hyaluronic acid? Apply it after your cleanser/toner while your skin is still slightly wet, and follow immediately with moisturizer – give a moment for the hyaluronic acid to absorb into your skin, but seal in the moisture before your skin dries completely.
Aloe vera is incredibly soothing to the skin. You've probably heard of using aloe vera for a sunburn, but its properties are wonderful as a moisturizer as well.
It actually contains two hormones that work together to reduce inflammation in the skin. Auxin and Gibberellins are wonderful at healing the skin and then stimulating new healthy skin cell growth.
You will find aloe vera as an ingredient in most of Pure Haven's products including our pre+probiotic face cleanser, eye cream, moisturizer, exfoliator and charcoal mask. So often, skincare routines can be harsh and dry out your skin in an effort to "clean" it. If you have dry skin, the last thing you want is your natural oils stripped away from your face.
You're probably wondering what royal jelly even is, right? Well it is actually a bee product that is similar to honey. The substance is made by worker bees that is used to feed larvae that may become queen bees.
Royal jelly is super moisturizing and helps maintain elasticity of the skin when used in skin care products. This substance is high in amino acids, antioxidants and vitamins. Your skin will feel so refreshed from royal jelly.
Plus, royal jelly has antimicrobial properties so you don't have to worry about it clogging up your pores or making your break out.
Pure Haven's refresh moisturizer has royal jelly extract in its ingredients. This moisturizer restores the natural barrier of your skin to keep your skin hydrated.
Rosehip oil is crucial for your skin care routine and keeps your skin soft to the touch. The oil is light and easily absorbs into your skin. Because of this, the antioxidants can deeply moisturize and nourish your skin.
The oil is derived from the rosa canina rose bush. This type of rose bush is mainly found in the country of Chile and is known for its healing, antibacterial, and fatty acid benefits. That also makes rosehip oil wonderful for anti-aging and keeping your skin looking young.
Rosehip oil is used in Pure Haven night serum and beauty booster to lock in hydration and defend your skin against free radicals that age the skin. This ingredient is truly reparative and you absolutely need it in your skincare.
Shea butter has natural vitamins and fatty acids that get down into the layers of your skin and add moisturize – it won't just sit on top of the skin.
Shea butter also reduces inflammation which makes this ingredient great for people with rosacea, eczema, or if you have just generally sensitive skin. Products can be very irritating to sensitive skin, but shea butter is naturally gentle.
Shea butter is also wonderful for under the eyes. Whether your eyes get puffy, or if they look "hollow" and need some plumping, shea butter is excellent at balancing that super sensitive area on your face.
That's why Pure Haven uses shea butter in our eye cream, exfoliator and so many of our body products! With our skincare bundle in particular, people experience visible results and hydrated skin, quickly!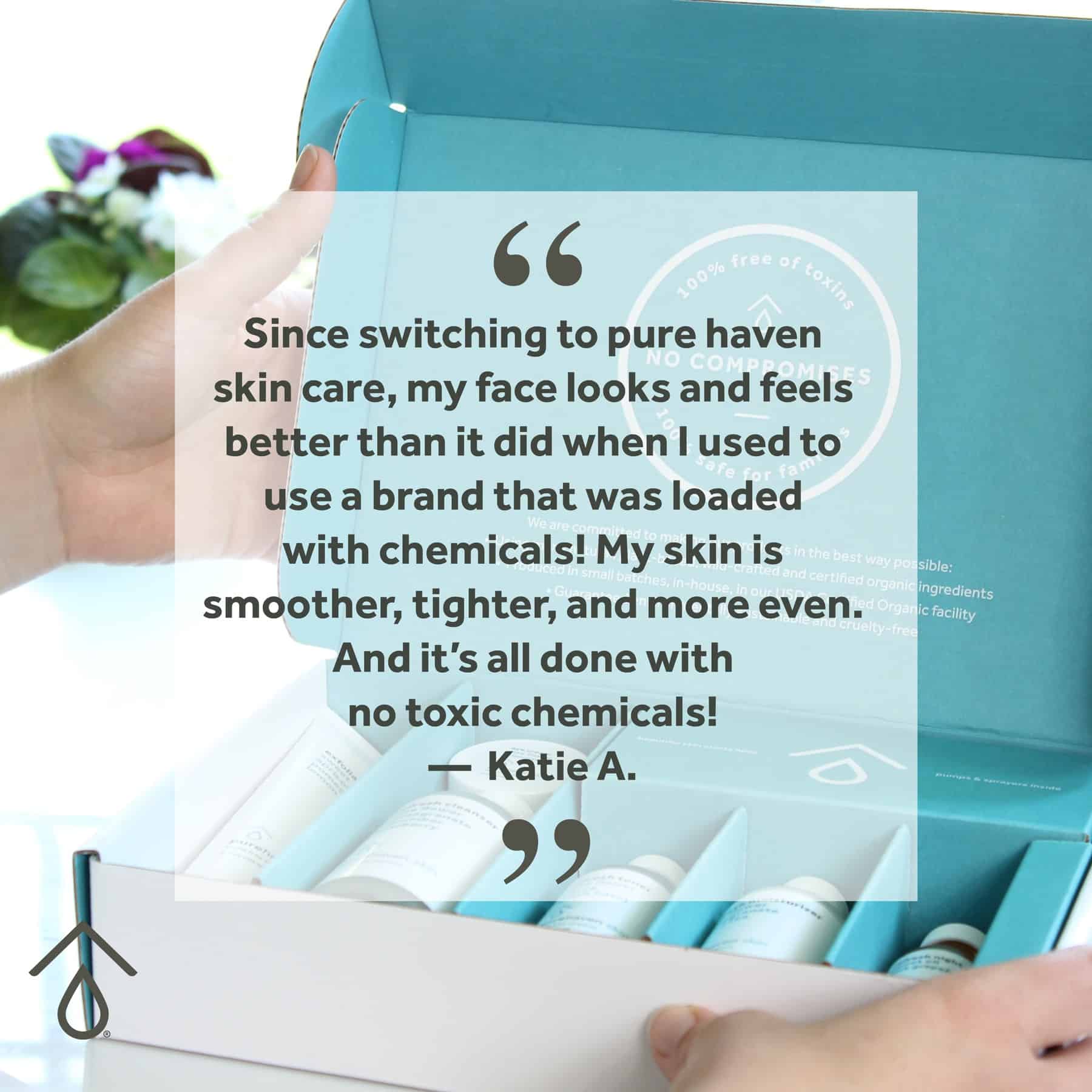 How to Start your Non-Toxic Journey and make your home a Pure Haven!
Pure Haven is the only company to make a full line of products that are 100% free of toxins, guaranteed … and they work! 
Figuring out what brands are truly safe (most are not) can be overwhelming. Check out this list of harmful ingredients as a starting point, but truthfully, this is why we make our products – we do the research so you don't have to.
Reach out to our team if you'd like to learn more about Pure Haven products, to make a purchase, and/or join our incredible team of Consultants (earn free products and income when you share with others, and shop at 30% off "wholesale prices" every day). We can help you take your health and future into your hands, without any compromises!